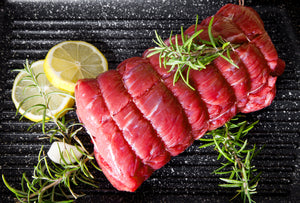 *FLASH SALE: GET 3 ROASTS FOR $99!!* 
Our roasts are a family favorite! Always juicy and tender, leaving the family full and happy. Slice up your leftovers for roast beef coldcuts! Types of roasts available are chuck roast, rump roast, arm roast, and sirloin roast, depending on stock availability.

Each roast is about 3 pounds.
ABOUT US: 
All of our beef is sourced exclusively from our 8,000-acre family ranch in the Tallgrass Prairie of Osage County, Oklahoma. Our cattle are born and live their entire lives there, happily grazing on some of the heartiest and most nutrient-dense grasslands and forage in North America. Before cattle, our land was grazed by bison for millennia, leaving it chock full of nourishing minerals and vitality—and you will taste the difference!
Many of our customers report feeling fuller for longer and with more energy when they eat our beef regularly. From birth to growth to harvest, each step of our process is carefully designed to yield some of the best beef in the country.